subject Ohiopyle Falls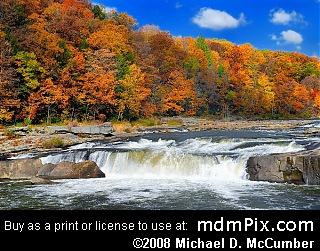 Ohiopyle Falls is made up of the Youghiogheny River plunging 15 to 25 feet over a block of resistant rock and is the central point of focus for most visitors to the expansive Ohiopyle State Park, Pennsylvania. The waterfall is accessible from the park's day use area with several observation decks. From that point of view, a wall of trees along Ferncliff Peninsula makes for a scenic backdrop in all seasons with perhaps the exception of winter. A more close-up experience with the waterfall entails following Ferncliff Trail on the opposite side of the river where it leads to a rocky surface right at the cataract's precipice. While offering a less scenic backdrop, the roar and spray of the Ohiopyle Falls is only a few feet away and close up photographs can be had here. A careful climb down the same block wall the waterfall spills over can lead to the base of a cliff that offers a bottom up view of the waterfall with the observation decks in the background.
This very waterfall changed history back in the French and Indian War as a young George Washington abandoned use of the Youghiogheny River as a route to reach present day Pittsburgh, Pennsylvania upon reaching this fearsome spectacle in his campaign to capture the French Fort Duquesne.
event Dates with Ohiopyle Falls
mapOhiopyle Falls Photographed
terrainSubjects Photographed
photoOhiopyle Falls Picture Data Access
January 19, 2018

October 29, 2016

October 22, 2015

October 8, 2015

May 14, 2015

May 15, 2010

October 21, 2009

May 10, 2009

September 6, 2007

October 21, 2006