subject Portland Head Light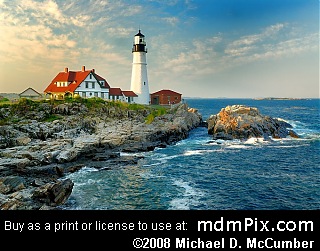 One of America's most photogenic, the Portland Head Light is referred to as the most photographed lighthouse in North America. George Washington signed the directive for the lighthouse's construction and it was first lit in the year 1791. It stands at 101 feet in height constructed of rubble stone with brick lining. The Portland Head Light is located in a popular seaside park (Fort Williams Park) in Cape Elizabeth, Maine not far from the city and port of Portland, Maine.
Good lighting greets the lighthouse in both morning and evening hours leaving the only photography challenge circumventing the 1,000,000 people who visit it each year. Portland Head Light is perched on a rocky bluff with an inlet on each side, enabling some great shots of it and the sea crashing in the foreground.
event Dates with Portland Head Light
mapPortland Head Light Photographed
terrainSubjects Photographed