subject August 29, 2009 Trip Log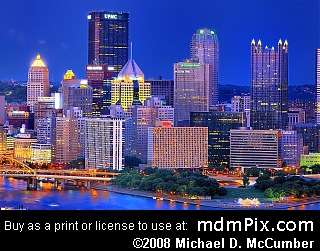 With a storm clearing out earlier in the day, I was hoping for some holdover clouds over Pittsburgh to reflect the light of the sun setting. I made it to Pittsburgh's beautiful West End Overlook just in time for the strong color cast of a setting sun to photograph the city with my Nikon 70-200mm f/2.8G AF-S VR Zoom-Nikkor ED-IF lens. I'm pretty pleased with the results.
I didn't take many shots after dark as the Steeler game was taking place with some truly bright lights washing the northern side of the city in a white light.